Mercy Wellness has two dispensaries located in Sonoma County, CA.
Mercy Wellness is a retailer committed to providing safe access to medical and recreational cannabis products for qualified patients, caregivers, and adult-use customers. The company's mission is to offer education, compassion, and access to reliable, affordable products to members with a passion for giving back to the community.
Dispensaries can be confusing places, especially for customers who may be new to cannabis or for those looking for products to achieve a specific therapeutic effect. How can retailers and budtenders help these consumers find the right product and desired effect in an intuitive and educational manner?
""We are changing people one at a time…The new store design that highlights terpenes and their effects is encouraging people to try something new."

Joe Sullivan

Director of Procurement, Mercy Wellness
In Mercy Wellness dispensaries, the PhytoFactsⓇ color-coded terpene diagram is front and center. Each container of flower on the store shelves features a placard that highlights the product's three primary terpenes along with a QR code that links to the full PhytoFacts report. Flower is also organized by color according to the strain's primary terpene—limonene-dominant strains are in the "yellow section," so customers can easily locate their desired terpene and effect.
"Our point-of-sale materials were specifically designed to make the shopping experience more efficient," Joe Sullivan, Director of Procurement at Mercy Wellness. "More importantly, the staff at Mercy Wellness are well-trained on the terpene profiles and the effects that can be achieved through the entourage effect."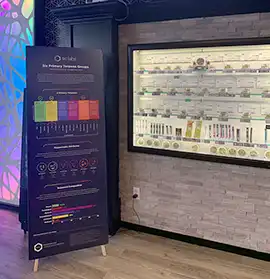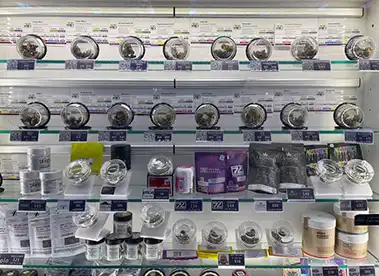 "Mercy Wellness has invested in training its staff at a whole new level," said Alec Dixon, the co-founder and Director of Client Relations of SC Labs. "They are highly educated on terpenes, and you can tell that customers appreciate this level of education and knowledge."
Store managers are surprised but happy to report that it's no longer just high THC strains that are the top sellers. "We are changing people one at a time," said Sullivan. "Customers come in looking for one thing and leave with something else. The new store design that highlights terpenes and their effects is encouraging people to try something new."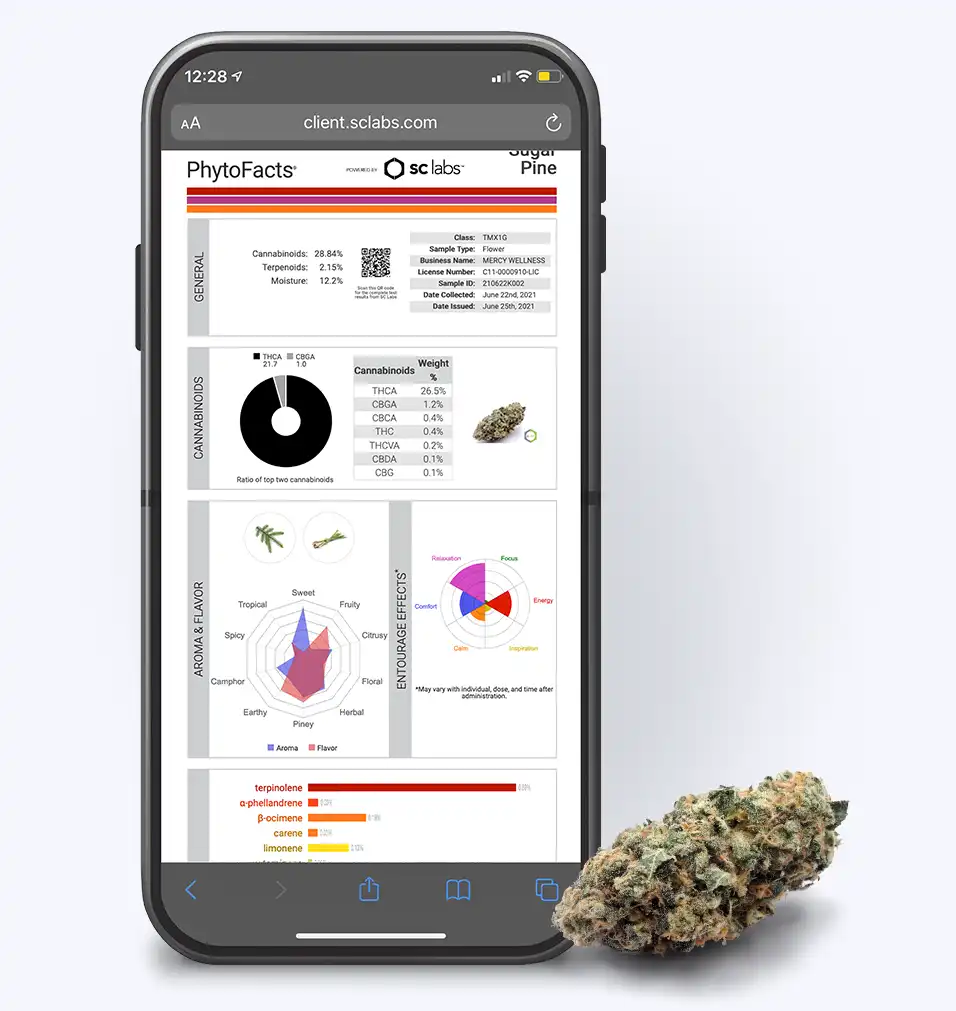 PhytoFacts is a complete platform and tool to characterize the quality of your flowers and concentrates.
With little standardization, many of the largest flower and concentrate brands are promoting terpene content in a less than ideal manner. The integrated PhytoFacts solution enables patients, consumers, and those in the supply chain to predict a broad range of flavors, aromas, and effects from laboratory analysis reports. Take a tour of PhytoFacts, and see how easy it is to make data-driven decisions about your cannabis and hemp flowers or concentrates.
Contact your SC Labs representative to learn more.
Do you have a story about working with SC Labs that you'd like to share?
We'd love to hear from you.
Copyright © 2013, 2020 BHC Group, LLC. Report protected by a federal copyright registration. PHYTOPRINT® and PHYTOFACTS® are registered trademarks of Napro Research, LLC. Used under license by SC Labs. This report was generated utilizing patented methods. U.S. Pat. 10,830,780. All rights reserved.